Joe Pesci golf : new review on an aging "goodfella"
Joe Pesci golf : new review on an aging "goodfella"
Share:
Silver screen icon who loves the links
Where do you even begin with Joe Pesci? Born in 1943, in Newark, NJ, the 73-year-old star has had a lifelong love affair with golf. Pesci first played at 17, and still enjoys the game today. This "new" review will be old hat to many, but thought it was high time to give some props to a favorite goodfella. Pesci got his first big screen role in 1961 but surprisingly had to wait til 1980 to achieve any acclaim. That was from his outstanding role as Joey LaMotta, brother to champion boxer Jake LaMotta (Robert Deniro), in the classic Raging Bull.
---
On screen exploits
So many roles to choose from! When you think of Joe Pesci, the natural inclination is to associate him with violent gangster characters. Obvious, with his seminal turn as Tommy Devito in the 1990's epic Goodfellas. Pesci received his only Oscar win, and rightfully so. The famous restaurant scene has by now been rehashed millions of times. "Funny how?" "Like I'm a clown?" Wouldn't dare speak for everyone, but I was certainly sold on him as a murderous sociopath.
---
"Vincent Gambini"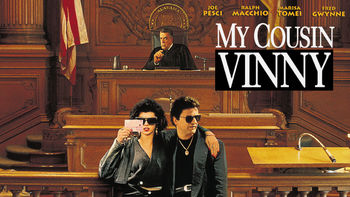 Pesci is so linked with gangsters of the Tommy Devito ilk (Casino, A Bronx Tale, Goodfellas) that I often forget his contribution to comedic roles. Maybe I'd much rather see Goodfellas for the 33rd time vs. Home Alone for the 3rd (?). Or perhaps I don't like watching him playing a bungling criminal. Whatever, the guy is funny. If you didn't laugh uncontrollably in My Cousin Vinny, then stop reading now. This is the wrong blog for you. Of course, he's playing the wiseguy NYC "mob" type here but dressed up as a green lawyer. That I'd have no trouble watching for the umpteenth time. Marisa Tomei doesn't hurt the cause either.
"Leo Getz"
Despite the fact it feels like they made 9 Lethal Weapon movies, it was only 4.  Fortunately for us, the slightly off-kilter accountant, Leo Getz (Pesci) appeared in the final two. Keeping this post PG rated, I can't add the drive-thru scene clip. But wander off to Youtube and check it out if you like. Not only funny but prophetic as well. They don't quite 'treat you right' at the drive-thru. Leo is naturally the victim here. If Leo went to play golf, you can only imagine that the greens would be aerated. Without them telling him in advance.
---
"Nicky Cerone"
1983's Easy Money is a forgotten classic. Rodney Dangerfield (aka Al Czervic from Caddyshack) plays the sad-sack everyman, with Pesci appearing as sidekick Nicky Cerone. Drinking, gambling, and chasing "skirts" are Rodney and his cohorts daily activities. Of course, Pesci's character takes the gambling part a bit more serious than most. Possibly a harbinger to the ultra-violent mobsters he'd soon bring to life, Joe shines in this supporting role. One thing you don't wanna do? Mess with Nicky Cerone and a gamble he's trying to cash!
---
"Nicky Santoro"
Who could forget this maniac that Pesci created? His acting skills were on full display in 1995's Casino. Though it is a great film, it did seem to drag in some spots. But who am I to question Marty Scorcese? More importantly, they were kind enough to supply us with a golf scene, and how mobsters really feel about the Feds. Enjoy!
---
Life imitating art
Joe Pesci has given us a lifetime of memorable roles. The fact he spends his off time chasing a little white ball around has only endeared him to me more. That and knowing the real life Joe apparently doesn't put up with sh** off the silver screen either. Call him short fused, but he wasn't going for this British (pop star) invasion. I must live in a cave because I've never heard of Robbie Williams . It seems Mr. Williams was having a party at his mansion. He happens to be a neighbor of Mr. Pesci. For some reason, Robbie, and his buddies decided it was ok to block Pesci's driveway with their cars. Bad call, Robbie. Joe proceeds to come at them wielding a golf club, instructing them to move their cars ASAP. Though "instruct to move" is putting it a bit on the mild side. Pesci's language was more…. colorful. After brief contemplation, Robbie and his gang was happy to comply. You can read about it from the Mirror here.
---
Life goes on
At 73, it's doubtful Joe hits the links as often as he used to. At one time, he admitted to playing "almost every day." Whether teeing it up with Jack Nicholson at Lakeside Country Club or cracking skulls with Deniro on celluloid, Pesci easily makes the golfers we like category. What's your favorite Pesci role? With so many to choose from, I'd have major difficulty answering that one.
Film information retrieved from IMDB
As always, thanks for reading. Please comment and share if so inclined. If not, go home and get your shine box!
Follow: