Cosmo Kramer golf review : exclusive insights
Cosmo Kramer golf review : exclusive insights
Share:
Cosmo Kramer, golfer
height: 6'3″
weight: 195-ish
mother: Babs Kramer
place of birth: Brooklyn (we think)
age: unknown
handicap: guesstimated +3
Cosmo made the tour
Since this is fiction, gleaned from fiction, I'll be taking many liberties here. Exclusive insights on Cosmo Kramer and his golf game are highly fictitious in nature and should be read accordingly. Now that we've cleared that up….
A boy with a dream
Any fan of Seinfeld knows, Cosmo was one helluva golfer. With his powerfully built sinewy frame, the kid was a natural. It was many a long subway ride, and hours spent on the driving ranges of Long Island that shaped the young prodigy's game. Yes, one day this energetic lad would fulfill his boyhood dreams.
Sidetracked
If it were only that easy. Reaching the PGA Tour is a longshot at best, nay impossible for most. Focus, determination, skill, and talent are just some of the prerequisites. Kramer's talent was beyond contestation. Unfortunately for Cosmo, and us as golf fans, he lacked many if not all of the other attributes needed to reach the Tour. Can you imagine the magnitude of a Master's Sunday final pairing of Kramer and ……Sergio Garcia? The potential exchanges between those two would be priceless.
Entrepreneurial spirit
What kept Kramer from making the Tour and fulfilling his potential? His ambition to change the world! Who could deny the brilliance of the "bladder system for oil tankers?" Concocted while running the powerful conglomerate, Kramerica Industries.
Or his dalliances with Newman, with their ill-fated Michigan bottle deposit scam. And countless others. Though longtime friends, Kramer never saw that Newman continually led him down slippery slopes.
Yes, the light bulb never went off for Kramer. His star burned brightly. Constantly on the make, hustling, and brainstorming for his next big project or score. Here's but a small sample :
pizza parlor with Pappi (very "questionable" hygiene exhibited by Pappi)
High-risk rickshaw business with Newman (ended poorly, as most co-ventures with Newman did)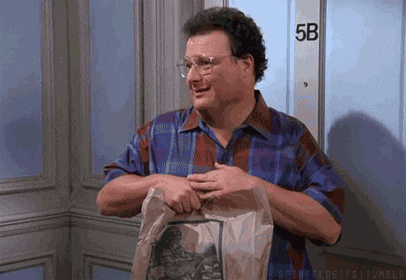 coffee table book about coffee tables (Regis and Kathy Lee loved this one!)
the "Eau de Kramer" cologne- called the Beach (pretty sure the brass at Calvin Klein nicked his idea)
Cuban cigar "importing" endeavor – you can guess how that went
the male support undergarment brilliantly dubbed "

the bro"

. His wingman on this, Frank Costanza, wanted to call it the "manzier." Shockingly, this idea never gained any traction.
Hollywood beckons
Really there was no limit to his ambition. And this was ultimately his downfall. Had he just taken the time to focus on his golf game, his hustling business acumen would have remained dormant. But hustle he did, one scheme after another. After a particularly unsavory exchange between him and Jerry, he decided to "pack a grip and hit the coast, to LaLa land." One can't help but wonder if his time in Hollywood was spurred on by his "movie-phone" experiment. Not long after arrival, Cosmo became embroiled in a murder investigation. A serial killer was on the loose, and Kramer was the prime suspect! After some tense moments and scare tactics from a shady LAPD detective, Kramer was rightfully exonerated.
But the burning question has to be: what does this have to do with his golf game? Well, absolutely nothing and everything at the same time.

Victim of circumstance?
Was it simply Kramer's lack of focus that kept him from the Tour? Perhaps something more sinister at work? I posit that his so called friends were the catalysts of his undoing. How could he possibly have achieved PGA pro status while consorting with such a frightful band of miscreants? Now you might ask, couldn't he just move and change his circle of "friends?" Well, that'd be the most simple solution. He did make the effort, with his brief stint in Los Angeles. That got him a quick murder wrap. No, NYC was home. Taking him out of New York would be as easy as removing Roy "Tin Cup" McAvoy from Texas. Highly unlikely.
Exclusive insights on what could have been
We can only imagine how Cosmo would have fared on the Tour. We're aware of his penchant for gambling. His off-track betting and airport terminal wagering escapades are the stuff of legend. Certainly Mickelson would have welcomed him to his gambling matches with Fowler et al. More than likely with open arms, thinking they'd hooked another live one. But not so fast Phil! Kramer is not some rube off the street. He's got game for days! And not to be trifled with, as he's a fierce advocate of the rules that shrugs off any and all intimidation tactics.

How many Wannamaker trophies and other Majors did Kramer miss out on?  We can only speculate. Ultimately, Cosmo is to be held accountable for never fulfilling his destiny. Like so many before him, his is a tale of wasted talent. Questionable friends, ill-fated business ventures, and simply a joie de vivre kept him out of the golfing spotlight. It's a shame, as I can only see him mounting a Sunday charge in the US Open with a patented "giddy-up." Golf fans the world over charting his every swing, wondering how the lanky wunderkind would dazzle us next. It's evident his skills were top notch, as the eloquent barrister Jackie Chiles discovers during cross-examination :

Alas, some things aren't meant to be. As always, thoughts and feedback are welcomed at Comicalgolfer. Could Cosmo have made it on Tour? Did his ambition get the best of him? I hope you've enjoyed this "exclusive" look into the life of Kramer. Thanks for stopping by!
Follow: